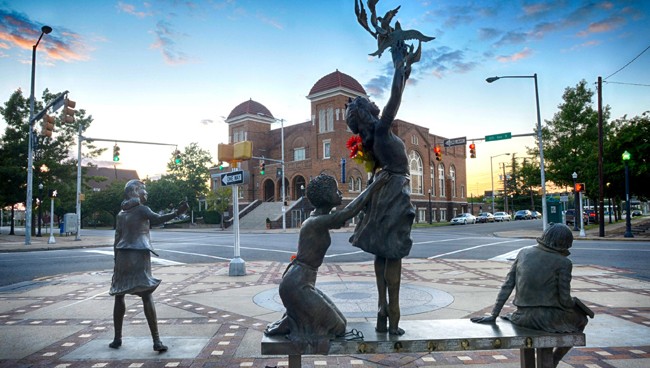 The Four Spirits:Birmingham, Alabama
The telling of history is not history unless it's true...
On September 15, 1963 (just a few weeks after the famous March on Washington/ "I Have A Dream" speech), one of the most horrific and deplorable moments in American history occurred at the 16th Street Baptist Church in Birmingham, Alabama.
A KKK terrorist attack killed 4 young girls and permanently blinded Sarah Collins as they attended services that morning...but, just hours after the bombing 2 young boys (mostly forgotten by history books) also lost their lives. In the aftermath of the attack, hundreds of people poured into the city streets to mourn, comfort each other, protest the attack, etc. while gangs of white youth and adults taunted and harassed them/ celebrated the bombing with chants like...
"Two, four, six, eight we don't want to integrate."
Johnny Robinson and Virgil Ware

During these very tense moments, Virgil Ware (shot in the chest while riding the handlebars of his brother's bike) and Johnny Robinson (shot in the back by police as they arrived to "disperse" the crowd) were killed in separate incidents. Although the murders of Johnny and Virgil were largely overshadowed by the church bombing, they have not been forgotten.
Finally after 50 years, the "Four Spirits Memorial" has made the history of September 15, 1963 complete!
Symbolism in the statue:
"A Love That Forgives" was the sermon title for church services that day.
Photographs of all six children are engraved on the side of the bench.
Denise reaching skyward with 6 doves/ the souls of their spirits being released to heaven.
Addie Mae lovingly adjusting the bow on Denise's dress.
Cynthia seated on the end of the bench reading/ pondering a book...opened to "The Stolen Child" by W.B. Yeats.
Carole looking back toward her friends as if to say, "we'd better get going...it's time to go to church."

Maybe the empty space on the bench represents the lives of the living parents, siblings, relatives, friends, etc. who would never be the same...
Well, I don't know what will happen to me now. We've got some difficult days ahead. But, it really doesn't matter with me now...because I've been to the mountaintop. And I don't mind...like anybody, I would like to live a long life; longevity has its place. But, I'm not concerned about that now. I just want to do God's will. And He's allowed me to go up to the mountain...and I've looked over...and I've seen the promised land. I may not get there with you. But, I want you to know tonight, that we, as a people, will get to the promised land. So, I'm happy tonight. I'm not worried about anything...I'm not fearing any man. Mine eyes have seen the glory of the coming of the Lord!