Fort Jay is the oldest defensive structure on Governors Island, it is located on top of the original earthworks fortification constructed during the Revolutionary War to help defend New York.
During the Revolutionary War, the site was abandoned as the British overwhelmed the Americans in the process of their occupation of New York. In the years following the war, the earthen works structure deteriorated and was eventually reconstructed in 1797 as a square structure with four corner bastions.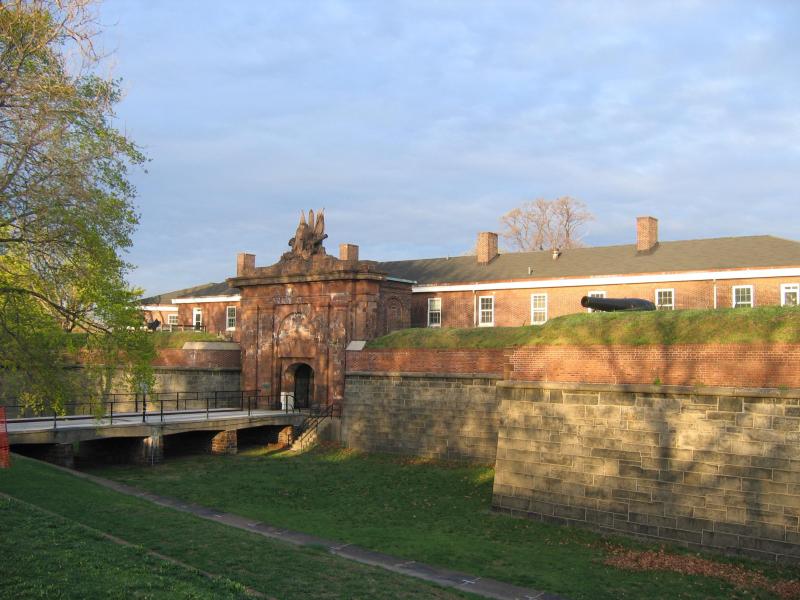 The entrance to Fort Jay
In the 1830's, the earthworks bastion was replaced with a star shaped sandstone and granite fort that was surrounded by a very high glacis (grassy area) and a deep, dry moat. Some of the dimensions/ features of the fort:
Elevation: Over 20 feet above sea level (the highest point on Governors Island)
Walls: 20 feet high and 8 feet thick
Dry Moat: 30 feet deep and 30 feet wide
Armaments: Over 100 large cannons
A Rodman Cannon at Fort Jay...so cool!
But, most interesting to me was the history of Fort Jay as a Civil War prison. Unlike Castle Williams (previous post) which housed enlisted soldiers, Fort Jay was "home" to Confederate officers. Generally speaking prisoners on both sides who were officers were treated relatively well. At Fort Jay, Confederate officers well allowed to walk around the island, play games like baseball for recreation, correspond through letters with their family members, and even fraternized with Union soldiers.
Dry Moat and Wall looking North...





One of my "off the beaten path" places in NYC!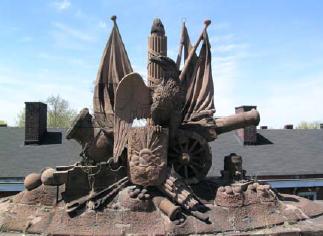 The Fort Jay Eagle above the Entrance